20 - 24 April 2020
Trinity College, Dublin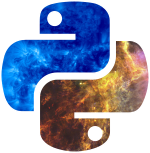 The sixth Python in Astronomy Conference will be held at Trinity College, Dublin on 20 - 24 April 2020.
This conference series aims to bring together a wide variety of developers, educators and other contributors to Python packages in the context of all forms of astronomy. The conference will include unconference sessions, presentations, sprints and tutorials. As well as expanding the community around astronomical uses of Python, the conference aims to improve collaboration and interoperability between Python packages, and to share knowledge on Python packages and techniques.
All participants at the conference will be expected to follow the code of conduct.
More details will be made available on this page closer to the week of the conference.
Applying
Applications for the 2020 Python in Astronomy Conference are now open! To apply to attend, please complete this form no later than 6 January 2020.
Program
Once finalized, the conference schedule will be posted here.
Organizing Committee
The scientific organizing committee (SOC) consists of:
Monica Bobra (co-chair)

Drew Leonard (co-chair)

Will Barnes

Clara Brasseur

Juan Luis Cano

Rebecca Lange

Sophie Murray
The local organizing committee (LOC) consists of:
Dúalta Ó Fionnagáin

Simon Purser

Ciara Maguire

Shane Maloney

David McKenna

Pearse Murphy

Sophie Murray (chair)
To contact the organizers, send an email to python.in.astronomy.soc@gmail.com.
Venue
The conference will be held in the Fitzgerald Building at the School of Physics, Trinity College Dublin (TCD). Maps and additional information can be found here.
Travel
TCD is located in Dublin City centre and is easily accessible from Dublin Airport (DUB), with flight connections to almost all major European and inter-continental cities. From the airport terminals, Dublin city centre can be reached either by bus or by taxi.
Taxi
Taxis are readily available outside both terminal buildings. A taxi will take about 20-30 minutes (depending on traffic). The usual fare for a journey to Dublin city centre is approximately €25.
Bus
TCD can be reached by the following bus services, with relevant drop-off locations indicated by red symbols in the map:
Aircoach 700 – €7 one way or €12 return. The Aircoach leaves from the airport every 15 min to the city centre (get off a the Grafton St stop - just beside the TCD front gate).

Airlink 757 – €7 one way or €12 return. This service runs every 30 minutes to the city centre (Pearse Street Station stop).

Dublin Bus 16 – A cheaper alternative is to take the regular bus from the airport that will take about an hour and will cost €3.30. The exact fare needs to be paid directly to the bus driver, alternatively tickets are available for sale at the small markets in the arrival section of the airport (both Terminal 1 and Terminal 2).
Train
The conference venue is also located close to train links at Pearse and Connolly stations. For public transportation, Leap cards can be used on the buses, trains, and trams (Luas) in the city centre.
Lodging Information
Information on lodging options near the conference venue will be posted here shortly.
Sponsors
The Python in Astronomy conference series aims to be accessible to a broad and diverse range of participants. As part of that effort, we try to keep conference fees to a minimum and to provide funding to those applicants who need it. To be able to do that, we rely on generous support from external sponsors.
If you would like to support the growth of the Python in Astronomy software ecosystem, please consider contacting the SOC to discuss sponsoring PyAstro20.